Overview of Duvet fillings
Paradies Microfill®
Paradies Microfill® is a modern textile filling fibre for extremely lightweight duvets that provide an excellent climate and are really easy to care for. Duvets with this filling are extremely light and thin but still offer time-honoured Paradies thermal performance.
Paradies Microfill is a modern textile filling fibre that is very similar to the microfibres that have become popular within the clothing industry. It is created from extremely fine fibres that are capable of storing large quantities of heat-insulating air in relation to their own weight. Paradies Microfill is another example of a product that is based on our unique Highloft® fibre technology and so – in contrast to other lightweight bedding that is available on the market – the non-woven material does not solidify or get stuck together. As a result, there is no loss of snugness, loft or breathability. Thanks to the low volume of these Paradies Microfill duvets, they are all easily washable in a domestic washing machine.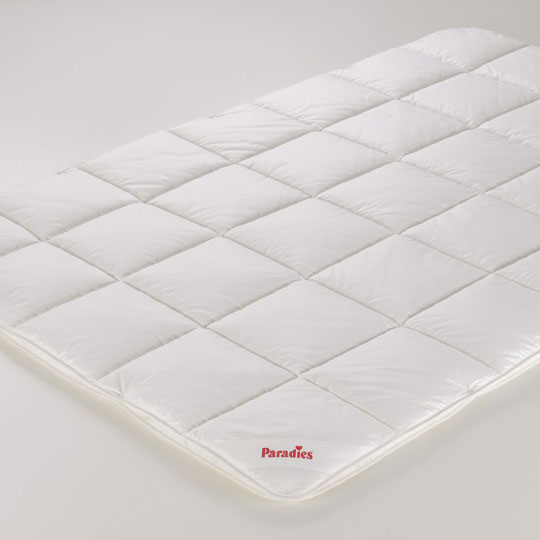 Further information:
// Duvets
// Heat retention
// Certified quality
Paradies Microfill®
Ultra-lightweight microfibre filling
Paradies Highloft® fibre technology for long-lasting loft
Optimum temperature and moisture balancing
Easy to wash in a domestic washing machine
Easy-care and washable

Microfill® thermal performance
Comparison test with an infrared camera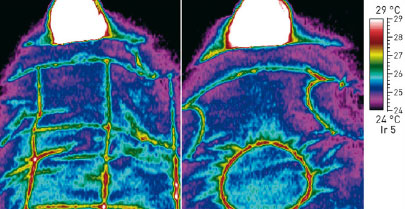 The pictures from the infrared camera provide the proof: Even though the Paradies Microfill® duvet is approximately 40% lighter than the high-quality textile fibre duvet, it still keeps you lovely and warm.
The pictures reveal the distributions of temperature across surfaces and objects. The warmest part of the image shows up as white (in this case: the head of the sleeping person), the intermediate temperatures are indicated by shades of yellow and red, and the colder parts of the image appear as blue shades.
For the purpose of our comparison test, we asked the same person to sleep once under a Paradies Microfill® duvet and then under a high-quality textile fibre duvet instead. The test clearly shows that – after a little while – the heat generated by the sleeping person is only able to escape slightly at the quilting seams in the case of both duvets. This is completely normal and helps to regulate the temperature under the covers.
Thermal insulation comparison test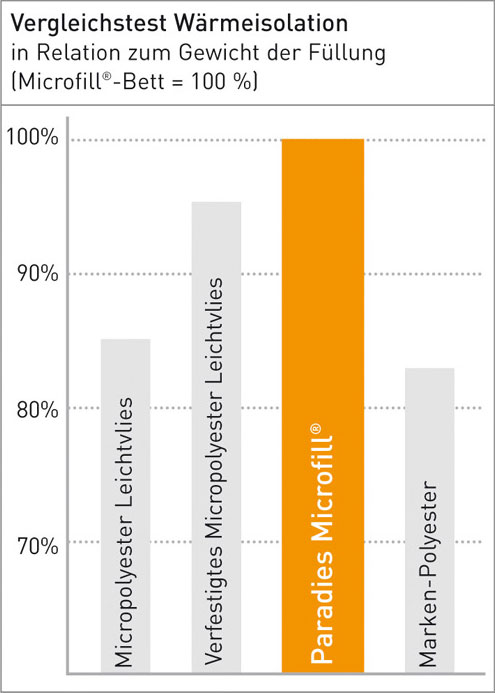 Studies by an independent research institute confirm that Paradies Microfill® offers the best thermal insulation performance in relation to the weight of the filling. This high level of efficiency is the key to the amazingly lightweight design of the Microfill® duvet when compared to standard textile fibre bedding.