Extra fabric features
The filling material and fabric must be perfectly coordinated so that the product can perform to its very best. The fabric is required to perform a wide variety of functions:
It must help the filling to maintain the right moisture balance
It must allow as much air to pass through it as possible to enable breathability
It must prevent penetration of the filling material
It must keep the product soft and cuddly
To ensure that all these requirements are met, a whole range of different fabrics are used at Paradies – in accordance with the type of filling material used. These differ in terms of the material and finish.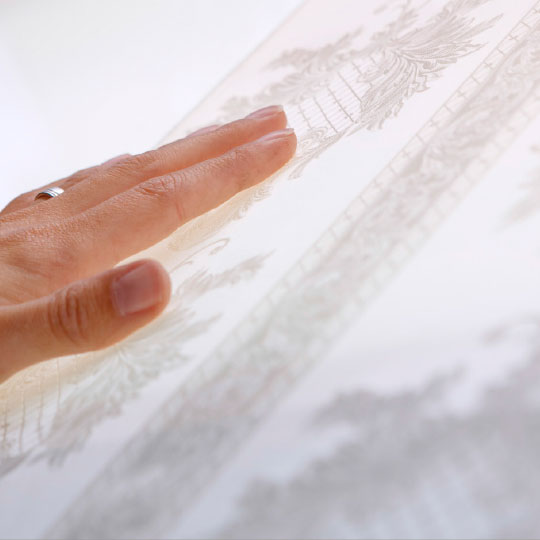 Further information:
// Certified quality
Nouvesse functional fabric:
Breathable and kind to the skin
Cotton maco satin:
Extremely smooth and soft
Cotton maco fine percale:
Fine-threaded and permeable to air
Cotton maco batiste:
Ultra-fine and lightweight
Fairtrade certified cotton:
Improved working and living conditions for cotton producers in developing countries
Helps promote environmental protection
Overview of fabric finishes
Overview fabric finish
Paradies Dryfix®

Paradies Dryfix® is a fabric finish for a dry and pleasant night's sleep. Moisture gets absorbed and diverted away from the body ten times faster than with conventional fabrics that do not have the Dryfix finish. The fabric dries much more rapidly.

Feel-Well fabric finish

Paradies Feel-Well is a fabric finish that is based on the same nurturing vegetable oils that are used in the cosmetics industry. It results in a gently flowing fabric that is beautifully silky and soft, and also nurturing to the skin – but without any loss of its breathable properties. Just like all the other Paradies fabrics, Paradies Feel-Well is temperature-resistant, non-ageing and wash-resistant.

Jojoba-Peach-Skin fabric finish

The nurturing properties of jojoba extracts are used to create an additional fabric finish. This extremely soft and comforting surface finish even gives sensitive skin a powerful sense of well-being.
It allows a pleasant exchange of heat and a good moisture balance.

Paradies stain resistance

One of the special features of Paradies Softy® pillows is that they have an additional stain-resistant finish applied to the case. If stains do start to appear, they can be washed out more easily thanks to this special treatment.
The Paradies stain-resistant finish remains effective and wash-resistant in the long term, the covering remains permeable to air (breathable) and it enables optimum exchange of heat and moisture.